DJ hire for corporate functions & staff parties.
Professional DJ hire for staff Xmas parties, mid winter, prize givings and New Year's Eve celebrations.
Our expert DJs provide an extraordinary range of music to suit your staff both youthful and old. Our team of professional DJs specialise in playing music video which provides your party with a lively more exciting atmosphere much like a great live band, yet with a far greater choice of music.
For smaller gatherings of up to 100 guests we offer ready-to-go dj hire packages. But if you are expecting more than 200 guests then we suggest you call us on 0800 435768 to make an appointment to meet with one of our DJs and they will help put together a suitable package with all the right equipment and music. By the way you should check out the amazing photo booth and DJ combo deals we offer!
Read What businesses say about us
Scott was the DJ for our mid-winter Christmas parties in 2013 and 2014. He provided an awesome atmosphere, with a wide variety of music to suit all ages and worked in well with our themed events. He was easy to work with and we look forward to using him again to get the party rocking.
Sarah Hailes
Mid-Winter Xmas Parties - Niwa
We used Soundzgood DJ Hire for our Waikato Toyota Christmas party in 2014. Our experience with Scott from Soundzgood DJ Hire was amazing, the music was a good mix of old and new to accommodate our staff both young and old. The video screen showing music videos for the songs he was playing was pretty cool too. He was friendly and easy to talk to and helped to create a wonderful atmosphere for the evening. I would 100% recommend Soundzgood DJ Hire for any occasion, in fact he was so good we have asked him to come back this year in 2015 to do it all again.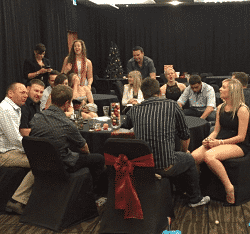 Kelly McPherson
Waikato Toyota Staff Xmas Party