What Our Clients Are Saying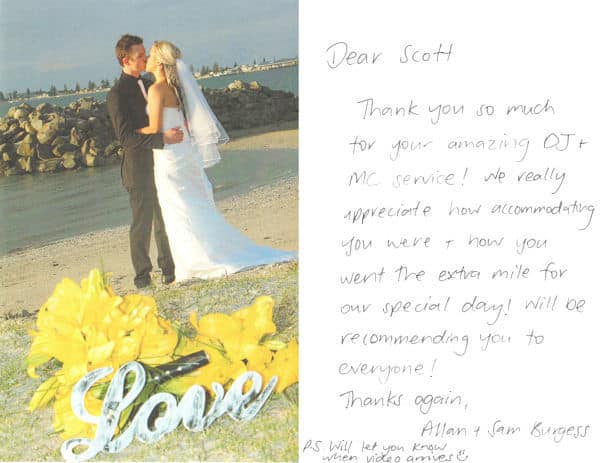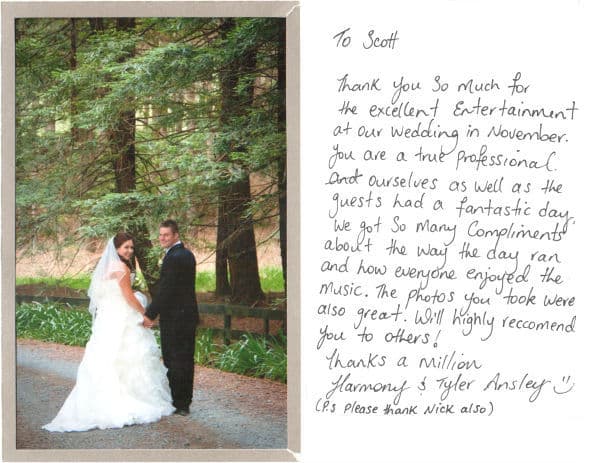 Gday Scott, First and foremost, thank you so much for the fantastic show you provided us on our wedding day. Your good judgment of music played a major role for setting the nights celebration. As you know, we had a bbq for family and close friends the following day, one of the main subjects that they all talked about is the pre-dinner entertainment and type of music played, (we can't wait to see the video) it set the mood for the night for them and for us, we were just blown away by the energy and enthusiasm you created before we arrived and throughout the rest of the evening. We are very pleased that we hired you for the full day package option; it was certainly one of our best investments we ever made. It was comforting to know such a professional DJ was entertaining our guests while we were having photos, this certainly allowed us to relax and enjoy the day without feeling rushed. Once again, thank you for making our night a memorable one.
D Cruz Shrimpton
Wedding - Te Awamutu
Dear Scott and all at SounzGood Entertainment, YES you sound good! Our planning for the wedding was very calm at the beginning and as it went on got more and more hectic as the day drew closer, I think everyone who has been married or are getting married know what we mean! From our first meeting we knew we were in good hands, from your understanding of our musical taste to the effect and ambiance that we wanted to create, your quiet assurance that everything would be fine was invaluable. Jan at Okataina Lodge said that her worst fear of organising a wedding was dealing with DJ's, afterwards however she made a special note to say to Kirsty how professional, quiet and curious you were in setting up. Thanks for the little bonus lighting effects… we noticed them, even with everything going on! Thanks for looking the part, tending to all our very drunk friends requests, keeping us dancing till our legs hurt, but most of all making the day polished, less pressured and worth every penny.
H Woolfrey
Wedding - Rotorua